AGTServices Inc.

24 Sam Stratton Rd
Amsterdam, NY 12010
Phone: 518.843.1112
FAX: 518.843.8389
Website: www.AGTServices.com
On-Site Generator Services Performed in the Following Locations:
USA, Canada, Mexico, Hawaii, Caribbean, Argentina, Venezuela, Italy, & England. Will entertain other countries upon request.
Generator Test, Inspection & Repair
AGTServices specializes in providing time saving (value-added) testing and repair solutions, coupled with expert replacement/upgrading and expedited delivery of custom components to repair any steam or gas turbine generator — fossil and nuclear.
AGTServices can provide on-site or off-site services and provide replacement parts for any make or model of generator in the power generation industry. Our newly expanded 35,000 square foot service facility is equipped with the latest innovations for the testing and repair of generators, readily stocked with the most critical replacement materials, and tooled to undertake any emergency generator stator or field need. Equipped with 75 ton crane capacity and easily accessible to the NY State Thruway, our service shop is capable of servicing almost any size generator.
In the newly expanded facility, AGTServices has the capability to manufacture new high voltage bushings as well as refurbish existing HVB's to "as new" condition. We stock a variety of porcelains and stand-off insulators to ensure the shortest cycle possible to minimize downtime.
Testing Services
AGTServices maintains its own fleet of calibrated generator testing equipment. In emergency situations, most equipment can be shipped, counter-to-counter, to arrive with the Generator Specialist. Comprehensive generator testing and immediate interpretation and analysis of results is our commitment to you.
Hi Potential Testing (D-C & A-C)
Winding Resistance Testing
Insulation Resistance Testing
Stator Water Cooling System (Pressure/Vacuum Decay) Testing
Helium Trace Gas Testing
Capacitance Mapping
Stator Wedge Surveys (Manual & Automated)
EL CID Testing
Core Loop Testing
Core Tightness "Break Away" Checks
Doble Testing
End Winding Resonant Frequency "Bump" Testing
Repair Services
AGTServices employs some of the most experienced OEM-trained winders in the industry. Our typical winder experience ranges from wedging five MW stators to rewinding 1100 MW water cooled units.

Stator
Stator Rewinds
Stator Rewedges
End Winding Repairs
Water-Cooled Leak Repairs / Clip Replacement
Bar Vibration Abrasion Repairs
Stator Core Restacking/Repair
Through Bolt Replacement / Building Bolt Tightening
High Voltage Bushing Change-Outs
Stand-Off Insulator Change-Outs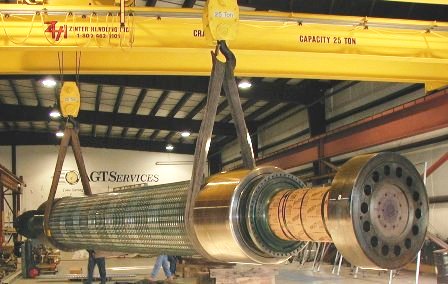 Rotor Services
Retaining Ring Removal/Replacement
Winding Elongation/Coil Distortion Repairs
Partial/Full Rewinds
Main Lead Replacements
Rotor Dovetail Cracking Preventative Maintenance
Collector Ring Replacements & Resurfacing
Expertise & Experience
AGTServices has over 200 years of combined, proven OEM engineering design and hands on experience, and is known in the industry for its schedule conscious, cost-effective solutions with respect to generator testing and repairs.
Other Relevant Background or History
AGTServices and NEC have successfully completed projects ranging in scope from as simple as a top bar replacement to as complicated as a complete stator rewind of a Westinghouse inner gas cooled generator. Over the past ten years as demand grew, AGTServices has always been able to count on NEC to come through to meet our customers needs.